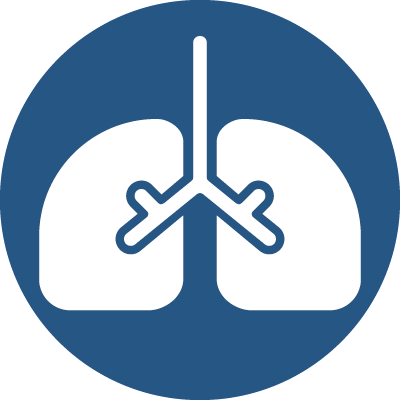 The Lungs
The lungs are the most commonly affected organ in patients with CF but the damage to the airways only starts to occur after birth. The damage accumulates over time so infants and children with CF usually have few symptoms. Although CF lung disease is progressive, meaning that it worsens over time, the CF team can work with you to minimize this natural progression and maximize your lung function.
The symptoms of CF are all linked to the basic problem with thick mucus, which traps bacteria and blocks the airways.
A cough develops as the lungs try to find a way to clear mucus. In children, the cough occurs only with chest infections but as disease progresses, cough will occur daily.
The mucus (also called sputum or phlegm) produced may be clear, white, yellow, green or brown. The colour of the mucus depends on the number of bacteria and infection fighting cells it contains – healthy mucus is clear and thin. Increasing amounts of bacteria in the sputum make the sputum thicker and darker in colour. The sensation of shortness of breath can develop if the airways are plugged with mucous.
Similar to the lungs, the sinuses are another area of the airway which is often affected in people with CF. The sinuses are cavities in the bones of your head which produce mucus to moisturize the inside of the nose. In CF, because of the defect in CFTR this mucus is abnormally thick, and thus accumulates in the sinus cavities and becomes infected. This is called chronic sinusitis. Almost all CF patients (90-100%) have signs of sinus swelling and blockage on Xrays or CT scans. Some people with CF develop nasal polyps (which are benign growths in the sinuses which extend into the nose) because of the constant infection and inflammation. Nasal polyps and chronic infection in the sinuses can cause symptoms of nasal blockage/congestion, facial pain, reduced sense of smell and thick nasal discharge. Mucous from the sinuses can sometimes drip back down to the lungs and cause a lung infection. If you have any of these symptoms, there are medical treatments including nasal sprays and rinses which can help. Sinus surgery is an option for some patients to clear out the sinuses and remove any infection/polyps. Ask your CF team about seeing an Otolaryngologist (or Ear, Nose & Throat Surgeon) who specializes in managing CF patients.