The North American CF Conference is the largest annual assembly of doctors, researchers, allied health professionals and many others dedicated to the treatment of Cystic Fibrosis. The 2022 edition of the conference was held in Philadelphia last October. As always, your St. Michael's team was well represented at the conference.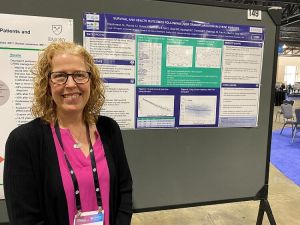 NACFC 2022 – Anne Stephenson
Dr. Anne Stephenson presented her poster at NACFC about survival and health outcomes
following liver transplantation in CF.
Data from both Canadian and US registries were used. The study cohort included 407 liver transplant recipients between 1987 and 2019. Most transplant recipients were children. Median lung function pre-transplant was 70%.
Results: High survival rates were seen after liver transplant (median survival 13.7 years). People with higher lung function before liver transplant had better post-transplant survival. After liver transplant, lung function trajectory improved with a 75% reduction in the rate of decline of FEV1.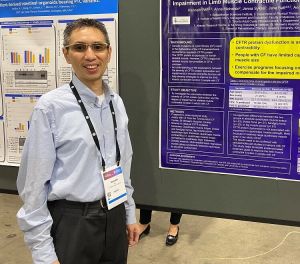 NACFC 2022 – Kenneth Wu

Kenneth Wu, physiotherapist, presented at NACFC the relationship between CFTR dysfunction and muscle contractile function in people with CF.
52 adults with CF participated in the study. 34 of them had severe CFTR protein dysfunction, while 18 had mild CFTR protein dysfunction. Muscle strength, power, and thickness were measured and compared in the two groups.
Results: CFTR protein dysfunction is associated with impairment in muscle contractility. This suggests that people with CF have limited capacity to exert muscle force per unit of muscle size. There are no significant differences in muscle strength in the two groups, likely because of the relatively large muscle size in our study cohort. Exercise programs focusing on "muscle hypertrophy" (e.g. resistance training with relatively heavy weights, lower repetitions, and lower frequency) may help compensate for the impaired muscle contractility in people with CF.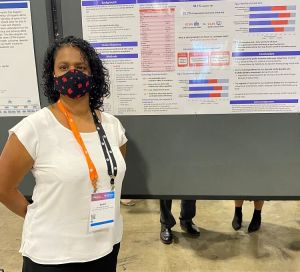 NACFC 2022 – Annie Thomas-Diceman
Annie Thomas-Diceman, social worker, presented on patient attitudes toward virtual care during the pandemic.
200 patients completed a survey about their experience with virtual care during the pandemic. Participants were on average 38 years old, had an average lung function of 65.8%, and 81% of patients had virtual visits.
Results: Over half of patients wanted to continue with virtual care and felt the optimal split was 50% of visits in-person and 50% virtual. Challenges with virtual care included: lung function could not be properly assessed, not able to access the allied health team, and 20% of patients were worried their health may decline with virtual visits. Interestingly, many participants preferred in person!